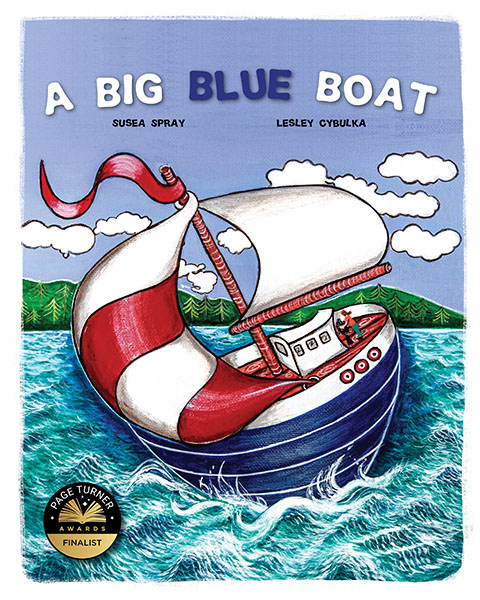 A boat.
A big blue boat.
A big blue boat with billowing sails….
Seas are calm, winds gently blowing, when a Big Blue Boat and her Captain head out for a day's sail.
As the sun arcs through the sky, winds strengthen, and seas start to rollick and frolic. What are a Big Blue Boat and her Captain going to do?
Children will love joining in with the rhythm and rhyme in this cumulative story about a boat, a girl, and the rollicking frolicking sea – and they even learn a bit about sailing boats.
'This linguistically colorful book with beautiful illustrations will spark the imagination of any child and adult to venture and sail. The print in this book is colorful and the words as well, sing song on the tongue as they twist a sweet tale of dreaming and sailing. A glossary of terms is included to help expand vocabulary. If your child loves the water, loves to sail or is fascinated with boats this is the book to get!
Great writing and great sailing!' Christine Calabrese
What Led to the Writing of A Big Blue Boat?
There are too many reasons to count, but here are a few:-
The sea is a magical place. There is nothing like the feeling of freedom one experiences out on the water in a sailing boat. Here you are immersed within the elements and experiences inconceivable wonders of nature: a dolphin's birth, albatross soaring, dolphins leaping and whales breaching. It has been an environment that has long called to Susea, as it does for many children and all sea – loving Australians.
My husband and I have young grandchildren. The idea for the book originally grew from the desire to share our experiences on the sea in a big blue boat in a fun way.
Although slowly changing, whilst many more women are taking up the challenge, sailing is still a man's world – in both numbers and old school male attitudes. I want to show young girls that they can sail, too!
The picture books I have found about sailing boats with female, and even male, protagonists, are generally centred around dreams, imagination, or focussed on places visited and their inhabitants from an imaginative view point. The way I use rhythm, rhyme and fun wording in my stories, enables children to experience that feel of a boat out on the sea, and the challenges the captain meets.
Links
For Schools, Libraries & Book Stores, A Big Blue Boat is available from:
Peter Pal, QLD
James Bennet, NSW
Westbooks, WA
ALS, SA
*Call to Action*