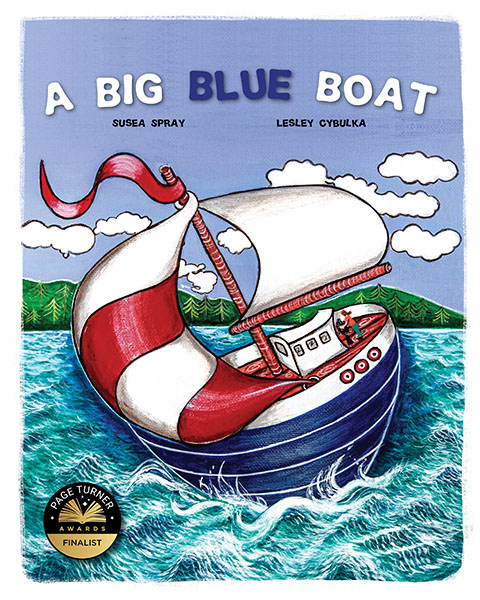 A boat.
A big blue boat.
A big blue boat with billowing sails….
Seas are calm as a Big Blue Boat and her Captain head out for a day's sail.
Then winds strengthen and the sea starts to rollick and frolic.
What are the boat and her brave captain going to do?
Will they find a safe harbour in time?
Early readers just love joining in with the fun wording, rhythm and rhyme that generate strong imagery in this award-winning story about a boat, a girl and the sea.
It even has a glossary and an activity to do!
If you have children or grandchildren who love Hairy Maclary, The Gruffalo, There Was an Old Woman, or boats, you are going to love A Big Blue Boat. Written for ages 4 – 8, children as young as 18 months are falling in love with the story, too.
Reinforcing key early literacy skills, this is a picture book that can be incorporated across the curriculum. It will make a great learning resource in the classroom!
'This linguistically colorful book with beautiful illustrations will spark the imagination of any child and adult to venture and sail. The print in this book is colorful and the words as well, sing song on the tongue as they twist a sweet tale of dreaming and sailing. A glossary of terms is included to help expand vocabulary. If your child loves the water, loves to sail or is fascinated with boats this is the book to get! Great writing and great sailing!' Christine Calabrese
Links
For Parents to Order Prior to Susea's Visit at Your School.
Pre-order and Susea will deliver your signed copy to your school, kindergarten or childcare centre on the day of her visit.
How?
Have your code ready.
Click on 'here' (see below step 3)
Enter the code
Create your order
Click HERE
For Schools, Libraries & Book Stores, A Big Blue Boat is available from:
Spray Publications direct
Peter Pal, QLD
James Bennet, NSW
Westbooks, WA
ALS LIB, SA
*Call to Action*